Message from the Chief Managing Director
Dedicated to Hope, Healing and Recovery.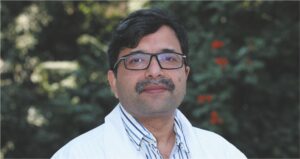 Dr Unmesh Takalkar
CMD – CIIGMA Group
As a Chief of the CIIGMA Group, I take pride in introducing to you the CIIGMA Group. Our motto — "Service to Humanity, Service to God " and the endeavor has been to continuously advance- through the state of art facilities in the field of medicine. Philosophy and Social responsibility of serving the patients are predominant factors in starting up this hospital. We at UCH offer a personal touch when it comes to patient care. Our greatest strength is a staff of very competent Doctors, Administrators, Nurses and Technicians and trained personnel .
We are proud to have been accredited by the National Accreditation Board for Hospitals & Health care Providers (NABH) and ISO: 9001, EMS : 14001 for maintaining quality standards. Our emphasis is on quality control, adhering to effective standard operating procedures. Our aim is to raise the bars to define new standards of quality health care for our patients. Patients are also coming with multiple problems at a time which needs a multi-model approach to treat them.