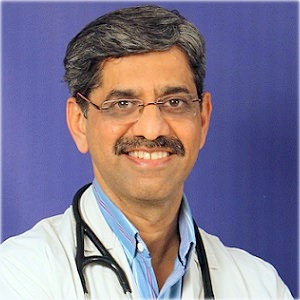 Dr. Anand Deodhar
Cardiovascular Thoracic & Transplant Surgeon
Cardiac Surgeon
PRESENT APPOINTMENTS
Senior Consultant Cardiovascular and Transplant Surgeon:
1. United CIIGMA Hospital, Aurangabad
Visiting Cardiac Surgeon:
1. Manik Hospital, Aurangabad
2. Spandan Hospital, Nagpur
3. Ashwini Hospital, Solapur
4. Lotus Hospital, Nanded
5. Vivekanand Hospital, Latur
Faculty:
Department of Management Sciences at Dr. Babasaheb Ambedkar Marathwada University, Aurangabad.
PREVIOUS APPOINTMENTS
Early Surgical Experience:
Rotating Internship from December, 1986 to November, 1987.
Resident in General Surgery from April, 1988 to December, 1990.
CardiothoracicExperience in India:
Registrar at Topiwala National Medical College & B Y L Nair Hospital, Mumbai from February, 1991 to March, 1991.
Senior Resident at Topiwala National Medical College & B Y L Nair Hospital, Mumbai from April, 1991 to June, 1993.
Senior Registrar at Poona Medical Foundation Ruby Hall Clinic, Poona, India from July, 1993 to March, 1996.
Honory Assistant professor at Government Medical College, Aurangabad from August, 2008 to December, 2009.
Cardiothoracic Experience in United Kingdom:
Clinical Fellow (Registrar) at Royal Hospital For Sick Children, and Royal Infirmary, Edinburgh, UK from April, 1996 to March, 1997.
Specialist Registrar in Cardiothoracic Surgery doing Rotation job between Alder Hey Children's Hospital, Liverpool; Cardiothoracic Centre, Liverpool; and Wythenshawe Hospital, Manchester from April, 1997 to March, 1999.
Specialist Registrar in Cardiothoracic Surgery doing Rotation job at North Manchester Health Care Trust April 1999 till January 2002 involving rotation between, Blackpool Victoria Hospital Wythenshawe Hospital, Manchester Manchester Royal Infirmary.
PROFESSIONAL EXPERIENCE
General Surgery:
His first clinical year was spent as an intern rotating in the Department of Medicine, Surgery, Obstetrics & Gynaecology, Paediatrics, Community & Rural health.
Thereafter he entered a Residency Program in General Surgery at Government Medical College & Hospital, Aurangabad (M.S.). This was a three years program during which he worked in Paediatric Surgery, Cardiothoracic & Vascular Surgery, Burns & Plastic Surgery, Accident & Emergency and General Surgery.
It was a 1200 bedded hospital catering to a population of ten districts . It was an undergraduate and postgraduate teaching centre.
He had extensive exposure to assist and to do independent planned & emergency surgical procedures.
He has also had an experience of handling accident and mass casualties.
He obtained Master's degree in General Surgery in December 1990.
Cardiothoracic Surgery:
His introduction to Cardiothoracic Surgery was during his General Surgery residency at Government Medical College & Hospital, Aurangabad. Here he was exposed to closed heart procedures, Thoracic and Vascular Surgery. He also gained experience in Diagnostic & Therapeutic Endoscopies.
In February 1991 he joined at Topiwala National Medical College & B Y L Nair Hospital, Bombay as Registrar in Cardiothoracic Surgery. In April, 1991 he got registered with University of Bombay for Master's degree in Cardiothoracic Surgery. It was a well-equipped department with facilities for all types of Cardiac, Thoracic & Vascular surgery. Here he was exposed to approximately 300 open heart operations per year including a significant number of Paediatric Cardiac procedures.
He assisted in a variety of Cardiac and Thoracic procedures and became familiar with Cardio-pulmonary bypass techniques. He was responsible for general and intensive care management of these patients. He also accumulated a great deal of independent operating experience.
At Ruby Hall Clinic, Pune,he learnt a variety of adult and basics of paediatric cardiac surgery. He had an opportunity to perform few cases on my own. He was directly involved in the postoperative intensive care of these patients.
He came to UK in April, 1996 and initially worked at The Royal Hospital for Sick Children, Edinburgh, and The Royal Infirmary of Edinburgh as Clinical Fellow (Registrar) in Cardiac Surgery. Here I gained further experience in assisting and performing a wide variety of adult and paediatric cases.
Between April, 1997 & March, 1999 he worked as a Specialist Registrar in a recognised training job which involved rotation between Alder Hey Children's Hospital, Cardiothoracic Centre, Liverpool and WythenshaweHospital, Manchester. This job was designed to give an exposure to a wide variety of adult and paediatric cardiothoracic surgery.
He joined rotation training job at North Manchester Health Care in April 99 which has helped me to consolidate my adult cardiothoracic experience. He did the routine cases with and without consultant supervision.
Since January 2001 he has worked at Manchester Royal Infirmary and involved mainly in performing "off pump" coronary artery surgery.
After completion of UK training he took up the post of Chief Consultant Cardiovascular and Thoracic Surgeon at KamalnayanBajajHospital, Aurangabad.
He has been visiting Cardiac Surgeon at various hospitals in Maharashtra.
He was an instrumental in development of Cardiac Surgery department in few of these hospitals.
OPERATING EXPERIENCE
Cardiac Surgery:
He has done over 8500 open heart operations himself. These include coronary artery bypass grafting, single and multiple valve replacements, valve repairs, correction of paediatric & adult congenital heart defects, etc. He has been performing routine and urgent coronary artery surgery on the beating heart, "Off Pump". He has also been using multiple and total arterial conduits.
His other area of interest is AORTIC ROOT and AORTIC surgery. He has attended a course and workshop on Aortic Root Surgery organised by Royal College of Surgeons at London.
He has gained hands-on experience to perform a variety of aortic root surgeries including Homograft, Autograft root replacement and Stentless aortic valve.
He has performed various closed heart operations, which include closed mitral valvotomy, PDA ligation, and pericardiectomy/stomy.
Thoracic Surgery:
He also has an interest in thoracic surgery and he feels that there is more variety in thoracic cases than in cardiac cases. It is a less glamorous part of Cardiothoracic Surgery.
He has certainly planned to keep my interest in thoracic surgery and have a fair amount practice in future.
He has done a large number of cases of Lung resections, in addition to a variety of other Thoracic operations, like Mediastinoscopy, Thymectomy, Decortication, Pleurectomy, Heller's oesophagocardiomyotomy, diaphragmatic hernia, oesophageal atresia, etc.
Vascular Surgery:
He was trained as a Vascular Surgeon and has performed many planned & emergency vascular operations as a part of his training.
At their centre, he has been performing all types of repair and reconstruction of most of the peripheral arteries, as an elective or emergency procedure.
Trauma:
Cardiothoracic and Vascular trauma can vary from a simple fractured rib to penetrating heart injury.
He has managed a large number of these cases both conservatively and byemergency explorations. They have a well-organised trauma team and I play the role of looking after thoracic and vascular trauma, which is in abundance in this part.
Minimally Invasive Cardiac Surgery:
Last five years he has been involved in minimally invasive cardiac surgery programme.They have been performing MICS CABG, ASD closure, Aortic & Mitral Valve Replacements on a regular basis.
So far they have performed more than 300 minimally invasive heart surgeries
Academic Training:
During 1988 to 1990, he was registered with Marathwada University, Aurangabad (M.S.), as a Postgraduate in Surgery. He participated in the teaching sessions, seminars and clinical meetings in Surgery.
During 1991 to 1993, he was enrolled as a Postgraduate student in Cardiothoracic surgery. He regularly participated in the seminars and inter-college departmental meetings.
He has participated in the 50th Conference of the Association of Surgeons of India, Indore in 1990.
He has presented scientific papers in various Annual Conferences of Indian Association of Cardiothoracic surgeons, at Bombay in 1991, Calcutta 1992, Hyderabad 1993, Agra 1994 and Bangalore 1995.
He has participated and presented a paper in Annual Meeting of Cardiothoracic Surgeons of UK&Ireland, at Nottingham in March 99.
He has successfully completed FRCS Cardiothoracic Surgery examination conducted by Intercollegiate Board of the Royal Colleges of Surgeons of UK and Ireland, in May 2001.
Teaching:
As a Postgraduate resident at the Government Medical College and Hospital, Aurangabad (M.S.) and Topiwala National Medical College, Mumbai, he taught undergraduate students and postgraduate surgical residents.
As a Senior Specialist Registrar he has been handling the responsibility of arranging the departmental teaching and other activities. He is also delegated the work of administrative registrar.
He has maintained my interest in teaching even at United CIIGMA Hospital, and routinely get involve in seminars and teaching activities.
He is a faculty member in the department of Management Sciences at Dr Babasaheb Ambedkar Marathwada University, Aurangabad.
Anand Deodhar – Blunt injuries of Abdomen: Clinical presentations and management Marathwada University. Thesis for MS Degree, 1990.
Anand Deodhar – A study of Mitral Valve repair. University of Bombay. Thesis for M.Ch. Degree, 1993.
"Aortic Valve Tumour Causing Acute Myocardial Infarction in a Child"
Anand P. Deodhar, M Ch,  Andrew J. P. Tometzki, MRCP,  Ian N. Hudson, FRCA, Pankaj S. Mankad FRCS (C/Th). Ann ThoracSurg 1997;64:1482-4.
"Pulmonary Complications: A Major Cause of Early and Late Death After Complete AVSD Repair"
A Deodhar, C Akomea-Agyin, M Pozzi
Presented as a poster and published in the Meeting Book at Italian Paediatric Cardiology Conference at Milan, 1998.
Malignant triton tumor of the right vagus
Amal K. Bose, Anand P. Deodhar, and Andrew J. Duncan Ann ThoracSurg 2002 74: 1227-1228.
Congenital unilateral pulmonary artery agenesis and aspergilloma
Isaac S. Kadir, Joyce Thekudan, Anand Deodhar, Mark T. Jones, and Kevin B. Carroll Ann ThoracSurg 2002 74: 2169-2171.
Setting up of Tertiary Cardiac Centre
Project for PGDHAM course Babasaheb Ambedkar Marathwada University, 2011.
Prizes and Scholarships:
Prizes awarded by the Marathwada University, Aurangabad (M.S.), for best performance amongst successful candidates at M.S. General Surgery Examination.
Merit Scholarship for the M.Ch. degree course awarded by University of Bombay, for years 1991-92 and 1992-93.
Achievements and Highlights:
Practising as a Consultant Cardiothoracic & Vascular Surgeon at Aurangabad since January 2002.
Cardiothoracic Surgery Departments in four hospitals in Aurangabad including Government Medical College.
Pioneer in starting Cardiac Surgery programme at Nanded and Latur.
Performed more than 5500 open heart surgeries which include adults as well as children (Age range 6 months to 94 years).
Performed heart operation on a premature baby weighing 1.4kg.
Initiated Cadaveric Organ Donation Programme in Aurangabad and Marathwada.
Organised first cadaveric multi organ donation in January 2016 at United CIIGMA Hospital.
Conduct lectures on Organ Donation.
Because of persistent efforts and public awareness programmes, 14 cadaveric organ donations have been done in Marathwada since January 2016.
First Surgeon to perform Heart Transplant in Maharashtra outside Mumbai.
Fourth surgeon in Maharashtra state including Mumbai to perform heart transplant.
Brought Aurangabad on Heart Transplant map ahead of other cities in Maharashtra.
TV Talk Show on Heart Transplant for public benefit
Pioneer in starting Minimally Invasive Cardiac Surgery in Marathwada.
In first few surgeons to perform minimally invasive heart surgery in Maharashtra state.
Regularly performing minimally invasive heart surgeries in Aurangabad.