Message from the Chief Executive Officer
Dedicated to Hope, Healing and Recovery.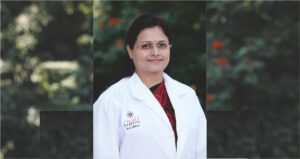 Dr Manisha Takalkar
CEO – CIIGMA Group
As a Director and Chief Executive Officer of CIIGMA Group, it is my pleasure to welcome you on behalf of the dedicated physicians and healthcare professionals who work together to provide essential health care services to help you achieve optimum long-term health.
From primary and speciality care to long-term care, CIIGMA Group of Hospitals delivers compassionate medical care for every stage of life. As a hospital group, we feel a deep sense of commitment and gratitude to all those who place their trust in our care. Our primary focus is to deliver exceptional care that equals international standards in quality, safety and patient satisfaction.
We have a dedicated and highly qualified team of Medical, Administrative and Support staff. The Consultants in various departments are among the best Specialists in their field. With robust technology, and with the assistance of highly qualified and trained staff, we are able to cater excellent healthcare services. Employees join our team with different skill sets, which gives us the opportunity to do tailor-training to meet every individual need. This whole wonderful package among other things is what ensures a high and affirmed quality of service for all people who visit CIIGMA Group of Hospitals.
We are constantly increasing and improving the services of our Hospital, both in curative and preventive healthcare services. As always, we are looking to improve our care and service to you. We shall only be glad to work towards serving you.